Chocolate Hazelnut Spread Cookie Recipe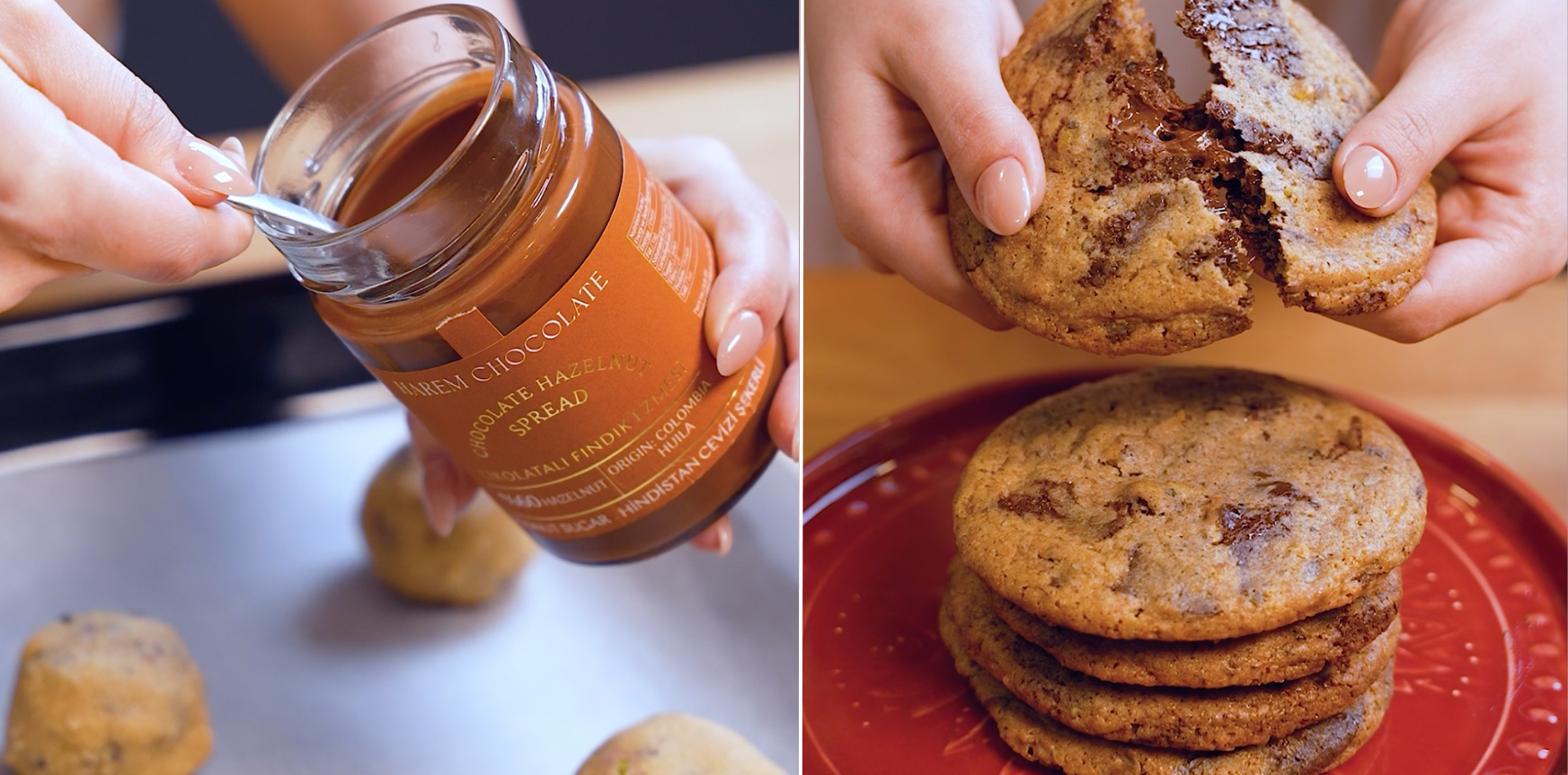 CHOCOLATE HAZELNUT SPREAD COOKIE RECIPE
One of the favorite flavors of Harem Chocolate, "Chocolate Hazelnut Spread" comes to your tables by going through the "Bean to Bar" journey, which starts with the selection of the best beans.
"Chocolate Hazelnut Spread", which we produce in its most natural form, without separating the precious oil extracted from the cocoa core, without using additives and refined sugar, offers you the aroma of cocoa beans in its most beautiful form.
Our cocoa, grown in the Huila region of Colombia, has a flavor characterized by fruity-acidic notes and a floral aroma.
We grind this core in stone mills and make it final without adding anything to it.
Our sugar-free variety contains 25% Hulia seeds and 75% Giresun hazelnuts.
The one with coconut sugar contains 60% Giresun hazelnut-20% Huila Kernel-20% Coconut sugar.
Chocolate Hazelnut Spread, which you can consume with pleasure and health in your breakfast and snacks, adds a completely different flavor to your recipes.
Cookie Recipe Prepared with Our Coconut Sugar Spread
Ingredients:
1 Egg
60g Sugar
125g Flour
2g Carbonate
80g Chocolate Hazelnut Spread
125g Butter
60g Brown Sugar
3g Cinnamon
15g Starch
125g Dark Chocolate
50g Pistachios
How to make:
Mix room temperature butter and sugar for 5 minutes.
Add the egg and mix for about 2-3 minutes until it becomeshomogeneous.
Add flour, baking soda, cinnamon, starch, dark Chocolate,and pistachios to your obtained mixture.
When all the ingredients are mixed, put the dough in a bowland let it rest in the fridge for 15-20 minutes.
Make equal-sized pieces of the rested cookie dough, put ateaspoon of Harem Chocolate Chocolate Hazelnut Paste in the middle, and roll itin the middle.
Bake in a preheated 160-degree oven for 15 minutes.
You, too, can share the recipes you have prepared with Harem Chocolate's Chocolate Hazelnut Spread with no sugar or coconut sugar, by tagging us on Instagram (@haremchocolate).
Bon appetit 🤎
Click for the video.